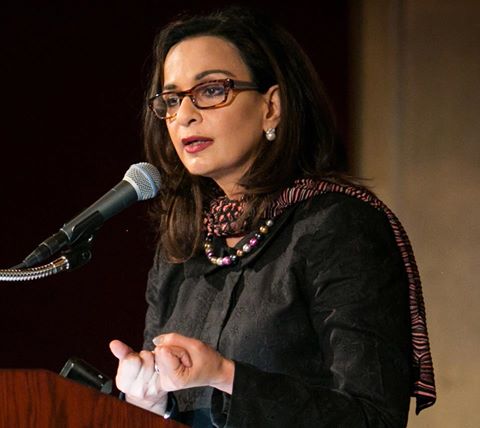 Islamabad, March 10, 2021: Addressing a seminar on International Women's Day organised by Shaheed Bhutto Foundation at SZABIST, PPP Parliamentary Leader in the Senate, Senator Sherry Rehman said, "The Aurat March has taken many shapes and forms and we should encourage it for all of its manifestations. Young women are out taking risks, learning how to build critical mass movements all over the country and if there are any shortcomings and lack of inclusion, I think they are forgivable. They are learning on the ground".
"It is important to redefine what misogyny does in a society or what burdens are being normalised for women. We must seek to bring reforms. That's how laws come into motion and they gather a momentum with the civil society. Having said that, laws are obviously not enough. But without the laws you do not have the government standing by and taking a position for those particular cases. Heinous crimes like honour killings, acid crimes and domestic violence continue to perfoliate in large swathes of the country. There are many forms of daily discriminations and abuse that women have to face across the class divide. That being the case, we need to welcome and support the second wave of the women's movement. Their methodology is different and they address the challenges faced by the younger women," she added.
She said, "Mohtarma Shaheed Benazir Bhutto's party has continued to be in the vanguard of reforms for women. Most of the bills that originated for reforms of laws, discriminations and the removal of patriarchal architecture that stifles growth opportunities and creates structural barriers for women. The backbone of Pakistan's healthcare system are the lady health workers. SMBB had envisioned this and now every government tries to add to this project. But unfortunately, now we see them struggling against state violence when they protest against the discrimination they face".
"Women are at the crosshairs of every international conflict and are the disproportionate burden takers of many crises. The pandemic has reinforced patriarchy. Right to choose and economic autonomy are all important but not all women have the right to choose. Most don't even know their rights. Access to healthcare and education are closed off for them. 48% women have access to healthcare and even less have the right to make decisions about their health," she added.
She said, "Domestic violence has amplified due to the pandemic, so much so that it is now being called the shadow pandemic. The burden on women has also increased but they are suffering behind the closed doors. Women are helpless as they get last priority. Their access to education and healthcare facilities has also been compromised".
"PPP has always chosen women and it is a conscious choice they make. Women don't have a token presence. Along with a seat, we have a voice at the table. BISP has empowered women and changed lives as it gives money to the women. PPP continues to consider women central to Pakistan's growth and inclusive policy making is crucial. The party ensures that it protects the women and has always stood in support with them. There is complete clarity in the party on this and there is no confusion on it. PPP will always provide protection to women as this is SMBB's party. President Zardari and Chairman Bilawal Bhutto Zardari in their capacity have always supported women's rights and ensured that they are at the frontline to protect them," she added.
Vice President PPPP Senator Sherry Rehman concluded by saying that, "Women are at the crosshairs of conflict, crises, climate change and Covid-19 and they need far more support than what they are being offered. Those forces that are attacking women who are asking for their rights, to have access and control over their bodies, need to be condemned".