Senator Sherry Rehman is the Parliamentary Leader of the Pakistan Peoples Party (PPP) in Senate, as well as the party's Vice-President. She is the Chair of the Foreign Affairs Standing Committee in the Senate and Chair of PPP's Committee on Foreign Affairs. She is also the Founding Chair and serving President of the Jinnah Institute,
She is a fourth-term Parliamentarian, diplomat, journalist, and civil society activist who has received Pakistan's highest civil award, the Nishan-e-Imtiaz.
Rehman, the former editor of the "Herald" newsmagazine based in Pakistan, is also an award-winning journalist with 20 years of experience in both the broadcast and print media.
Rehman has served as the Leader of Opposition in Senate, Pakistan's Ambassador to the United States and Federal Minister for Information and Broadcasting. She has held additional portfolios of Health, Women Development, and Culture as a Federal Minister.
Rehman has received several awards including the title of Democracy's Hero; The Freedom Award for her work for media independence; the International Peace Award for Democrats; and the Jeanne Kirkpatrick Award for Women. Identified as one of the Top Global Thinkers of 2011 by Foreign Policy magazine, she was cover-titled by Newsweek Pakistan as "Pakistan's Most Important Woman".
Her latest book, 'Womansplaining" navigates modernity, politics and activism in Pakistan through the prism of 22 women activists, leaders and academics speaking in their own voices. She has also co-authored the book 'Five Hundred Years of The Kashmiri Shawl' with Naheed Jafri, which was published in 2006 and was awarded the prestigious R. L. Shep Ethnic Textiles Book Award from the Textile Society of America.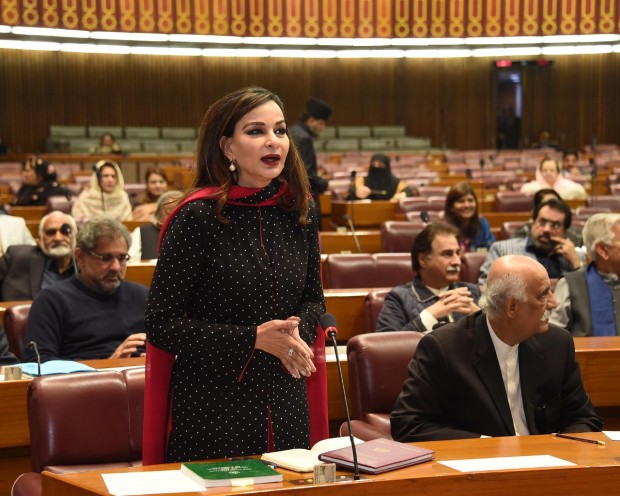 This government is on a collision course with the people of Pakistan, says Sherry Rehman