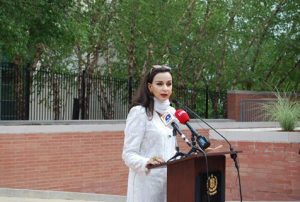 Islamabad, June 26, 2020: Addressing a webinar for the Overseas Workers of PPP, PPP Parliamentary Leader in the Senate, Senator Sherry Rehman said, "Osama bin Laden's al-Qaeda has been linked to the massive Karsaz attack, the Marriott hotel bombings, and Shaheed Benazir Bhutto's assassination. If he is a shaheed, then have the lives of our jawans gone in vain? Our forces have sacrificed a lot for our country & PM Khan's statement disregards and undermines all their efforts and sacrifices. Considering that our country fought one of the world's vilest insurgencies to get here, glorifying Osama Bin Laden in the parliament is disgraceful. What message are you sending across?"
Addressing the government's failure to control the pandemic, Senator Rehman added, "The federal government is still hiding their incompetency behind the Coronavirus. We have still not seen a policy and plan of action. Responsibility is being placed on the nation by saying that "if the nation acts responsibly this month then the worst might have passed", and how exactly does the government expect this to happen when lock down has been lifted & constant confusing messages are being given?" We have tried to involve the Prime Minister to have a discourse over COVID-19 but he abruptly left the meeting after giving the opening speech and without listening to other participants".
PPP Parliamentary Leader in the Senate, Senator Sherry Rehman concluded by saying that, "Shaheed Mohtarma Benazir Bhutto died fighting and challenging terrorism and now our Prime Minister is trying to make a terrorist in to a hero to please his electorate. I strongly condemn this and he should take back his words and apologise to the nation which has sacrificed immensely to the war against terrorism".