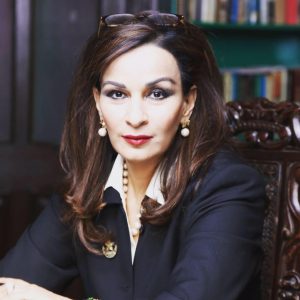 July 31, 2017, ISLAMABAD: Vice-President PPPP Senator Sherry Rehman has called for the resignation of Azad Jammu and Kashmir (AJK) Prime Minister, Raja Farooq Haider, following his statement pertaining to the annexation of AJK in the aftermath of former Prime Minister Nawaz Sharif's ouster.
Rehman said, "It was shocking to hear such a statement coming from the PM of AJK. His loyalty should be with Pakistan and the people of AJK. Questioning AJK's allegiance to Pakistan over partisan loyalty to PML-N is unacceptable".
AJK's Prime Minister Raja Farooq Haider made his comments while addressing a joint press conference with Gilgit-Baltistan's Chief Minister yesterday.
"The PM of AJK has lost his standing to stay in office for questioning AJK's allegiance to Pakistan. His comment was irresponsible and  has made a mockery of his office and the struggle of the Kashmiri people. He must resign immediately," concluded the Senator.