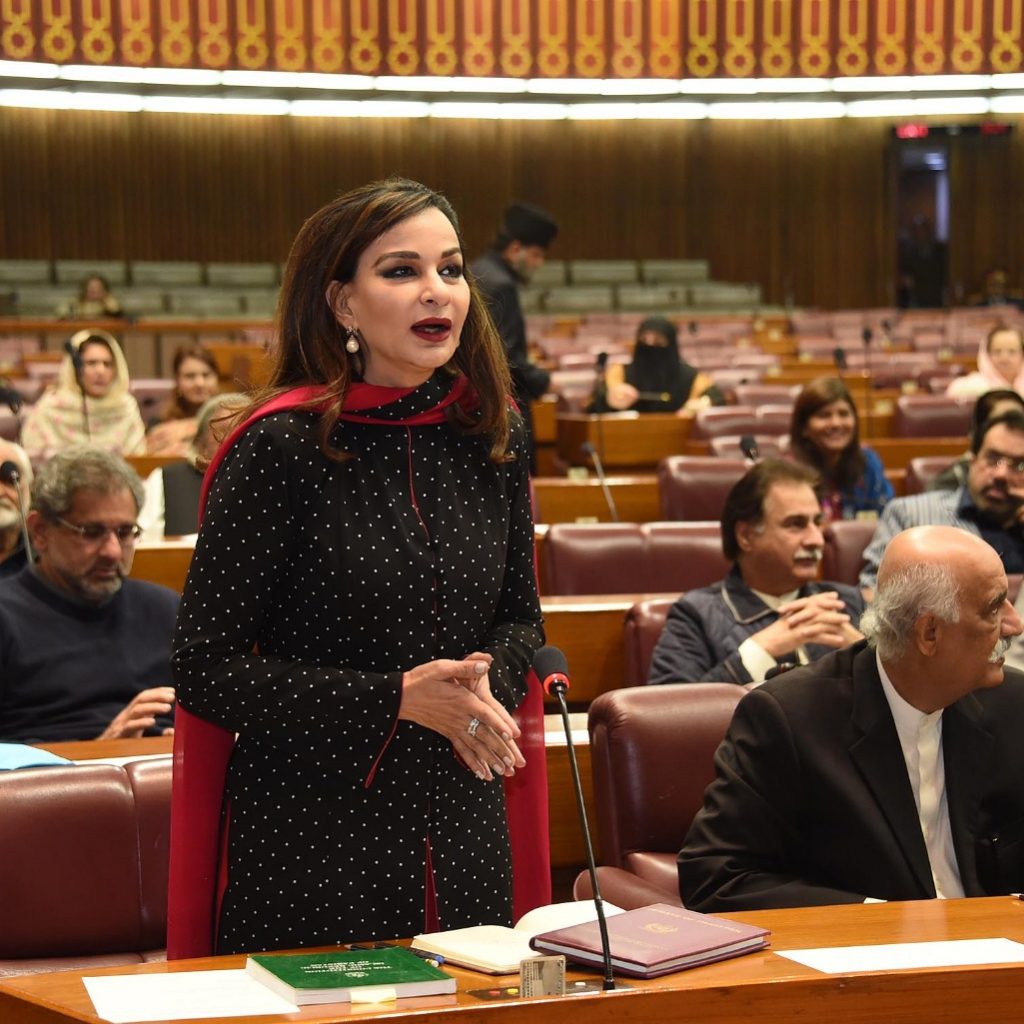 Islamabad, January 12, 2020: In her Senate speech, Parliamentary Leader of the PPP in the Senate, Senator Sherry Rehman said, "I was in Malakand yesterday and the people there have given a referendum against this incompetent government. Despite PTI's government in KPK for eight years, it was shocking to see their state of affairs. Their hospitals are in such a bad condition that patients are being taken to Sindh. Doctors are helpless at their situation after what has been done to PMDC. We are well aware of how the government has their eyes set on Sindh's hospitals. Forget Sindh, what have they done in their province? We all know what is going on with the BRT buses but why is NAB blind towards it?"
"Pakistan needs to be run by the Parliament and this government has tried its best to make it redundant by bypassing the parliament. This session was also called on our requisition. We don't come here just to take salaries. This government has made a record of passing around 40 Ordinances and 38 Bills. They are focused on ordinances which is a clear indication of their preference towards a presidential system. The ordinances keep expiring, just like how the PIDA Ordinance expired recently. If it has expired, then why are they defending it?" She questioned.
She asked, "What happened to the million trees tsunami? Climate Change department has been paralysed due to their mismanagement. LNG supply issue is in front of the world. Our institutions are being shut. PTDC has been closed and people are being laid off. Sugar, gas and electricity crisis have made us a laughing stock in front of the world. Our national airline has collapsed. Food inflation is on the rise and according to the UN World Food Program, 60% of the Pakistani population is already facing food insecurity. Just because they are not glamorous enough, these issues are being ignored and not being discussed. Why were decisions not taken on time? How are they running the country? Why can't we see any progress?"
"They have not given us relief even in this pandemic. Do they even have a vaccination plan for Covid-19? They even forgot to order vaccines and now finally, they have ordered 1.1 million vaccines for a population of 220 million. Where will the rest of us go?" Rehman questioned.
The Senator said, "This government's nonserious attitude is shocking. How many times has the PM attended a senate session? Hardly once. What is he scared off? Through which executive authority do they want to run the country? Forget the country, they have not been able to run a single organization. Only the cronies are being awarded. How can the PM talk about blackmailing and bargaining with the Hazara community who have suffered so much?"
"What is going on in the UN? This is the first time in our history that India has been made the chair of three committees. The committees are UNSC Taliban Sanctions Committee, Counter Terrorism Committee and Libya Sanctions Committee. Lobbying is done for these committees all year around. What is our Foreign Ministry doing? This all has been done under the watch of this government. We should be thankful that China came to our rescue. It is shameful how this government has been unable to represent Pakistan internationally. Observing one minute silence for Kashmir or changing the highway name to Srinagar Highway is not enough." She added.
She said, "This Naya Pakistan is rejected by the nation. After every few weeks there is a mini budget being passed without the consent of this Parliament. At least we used to get sugar and gas in the old Pakistan. We were even exporting wheat during PPP's government. The amount of loans taken by this government has surpassed the previous two governments. What we could not get in our tenures, this government has taken in two years".
Parliamentary Leader of the PPP in the Senate, Senator Sherry Rehman concluded by saying, "We do not need an NRO from you because we have not come from the back door. When we are in power, we work for this nation. This Tabahi Sarkar has destroyed everything. But we will never let them harm Sindh. The Islands are ours and no ordinance can take it away from us".