ISLAMABAD, May 20, 2016: Admonishing the federal government for turning a blind eye to the plight of Pakistan's Shia community, Senator Sherry Rehman said, "The purpose of the National Action Plan was not to impart selective justice – the government cannot continue ignoring these killings."
Senator Rehman made this statement after a delegation of the Pakistan Peoples Party led by Rehman visited the protest and hunger strike of Majlis-e-Wahdat Muslimeen (MWM) at National Press Club against recent Shia killings. The delegation strongly condemned the killings of innocent citizens in the name of sectarianism and expressed solidarity with the protesters.
The PPP delegation led by Vice President PPPP Senator Sherry Rehman included Senator Taj Haider, ex-MNA Zamrud Khan, Senator Sassui Palejo, Senator Rubina Khalid and former MNA Ghulam Murtaza Satti was welcomed and briefed by MWM Pakistan General Secretary Allama Raja Nasir Abbas Jaffari, Alama Hassan Zafer Naqvi, Allama Zaheer ul Hassan Naqvi, Alama Ahmed Iqbal Rizvi, Allama Abdul Khaliq Asadi, Syed Nasir Abbas Sherzi, Syed Asad Abbas Naqvi, Alama Asghar Askri and Asif Raza.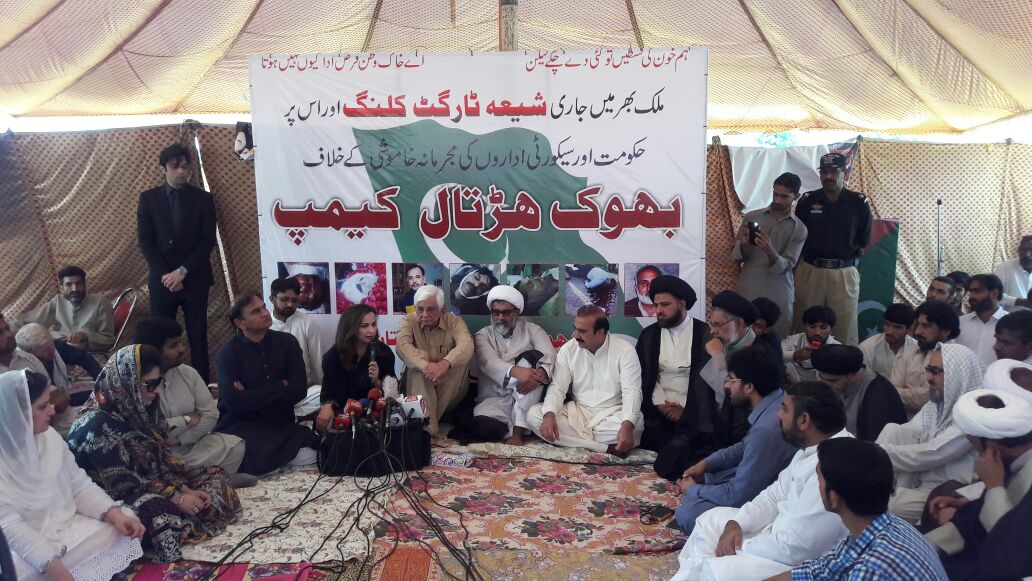 "While banned outfits have been targeting members of the Shia community with impunity, security forces themselves are firing on peaceful protesters, leaving them no way out," said Rehman, referring to an incident last week where the people took out a protest after a religious leader was refused entry into Kurram Agency for celebrations on the eve of the birth anniversary of Imam Hussain (AS).
Four Shia protestors were killed in the incident, receiving bullets from security forces.
"Renowned journalist and social activist, Khurram Zaki was assassinated this month, adding to a long list of community members targeted in recent times," the Senator noted.
Since last month, Shia professionals are continually being targeted by banned outfits in different cities of Pakistan.
"According to a conservative estimate, at least 250 Shias were killed in 2015 – Does burying your head in the sand or attacking the victims sound like a plan?"asked Rehman.
MWM has declared a hunger strike to protest the recent wave of sectarian killings, particularly in Khyber Pakhtunkhwa. The government, however, has turned a blind eye to it.
Calling on the government to take notice and dispense justice, Rehman said, "Attempts to divide the country along sectarian lines cannot be allowed, nor can this community, or any other, continue to live in fear and suffer simply for believing differently – it is about time action is taken against perpetrators of such injustice."
"Rising against injustice and maltreatment of all forms is in the manifesto of the Pakistan Peoples Party. PPP leaders sacrificed their lives in their fight against  injustice, inequality and brutality. Raising our voices against such killings is our moral and social responsibility," she concluded.