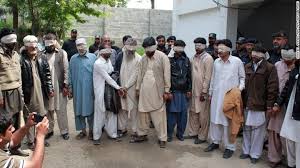 The savage murder of a young girl at the hands of her own family and community made headlines last month for the sheer scale of its pre-mediated brutality.
Fifteen-year-old Ambreen was drugged, strangled and then burnt to death, shocking even a country used to 25 years of debating such "honor killings."
Ambreen's supposed crime was heartbreakingly common and quite universal in its teenage impulse. Like millions of young girls, she had re-framed her limited autonomy by secretly furthering the course of another's love.
No one will know whether she ever imagined the terrible risk to her life.
The act of helping her friend elope to marry the man of her choosing, and presumably one that would have evoked a bloody tide of reprisals, turned unwittingly into existential defiance against both local custom and community.
Blood money
The outrage over Ambreen's death is not only about her murder.
It is also the nature and scale of brutality against women that Pakistan's government continues to tolerate despite a growing clamor for reform.
High profile cases like this one shine a light on more than just a conspiracy of silence when it comes to crimes against women. They also refract in sharp contours the costs of political inaction at the top.
According to the most recent report by the country's independent Human Rights Commission, in 2015 there were more than 1,100 "honor killings." Over 900 cases of sexual violence were reported against women, and nearly 800 women committed or attempted to commit suicide.
These reported cases are just the tip of the iceberg however.
While murder or injury is in most cases seen as a serious crime, with harsh penalties, this is not the case when it comes to crimes against women, especially those that involve the supposed "honor" of families or communities.
The law allows for the exchange of "blood money" for family pardons in certain crimes, preventing police or prosecutors from taking action and saving the perpetrators from justice.
Promised action not taken
It is not for lack of popular support that the government does not act.
Many anti-women laws in Pakistan have been debated and amended by previous parliaments, or at least kicked off a process of reform.
At a recent screening of Pakistani filmmaker Sharmeen Obaid's Oscar-winning documentary on honor killings at Prime Minister Nawaz Sharif's house in Islamabad, he declared a public fight against such crimes in Pakistan.
With mounting public and international pressure, it seemed the obvious thing to do.
Yet right after this announcement, a man accused of murdering his mother was released from prison thanks to a family pardon.
Absent changes in the law, such crimes will continue to proliferate.
Change must come
No one doubts that even if the law is reformed, change on the ground will take time.
This means many culprits will never face justice, and long trials may often end without conviction.
But the counterfactual to this conventional wisdom is obvious. Once the state takes back its right to disallow the privatization of justice, the law will at least be empowered to intervene for the victim.
In 2016, there is no reason that Pakistan's people, mainly its women, should have to live in fear of the savagery and brutality of honor killings.