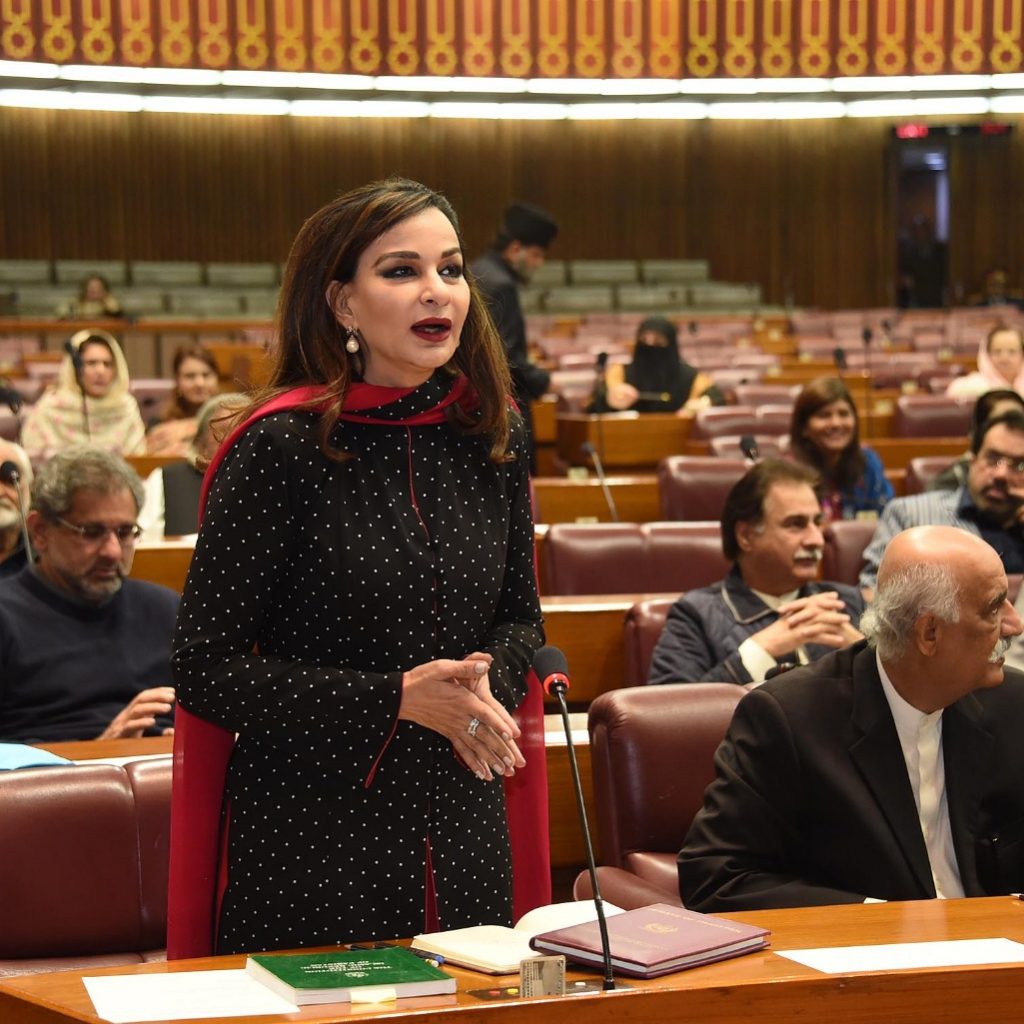 Addressing her calling attention notice in the Senate on the ongoing crisis in the gas supply to consumers, both domestic and commercial, Parliamentary Leader of the PPP in the Senate, Senator Sherry Rehman said, "The crippling deficits, the spiralling prices and unconstitutional distribution of gas to provinces in Pakistan has reached unprecedented levels. Hiding behind one false talking point of international gas prices and energy shortages, in drawing comparisons to countries with much stronger currencies, higher per capita incomes and purchasing power, the government continues to maintain its indefensible position on mismanagement of the gas sector and its iniquitous distribution in Pakistan, yet shows us no plan for overcoming the crisis as a harsh winter looms ahead".
"In 3 years the price hike stands at an incomprehensible 350 %, which is not only unaffordable for middle class domestic and or industrial consumers, the gas is actually unavailable in homes and factories because of the government's baffling incompetence and non-transparent spot buying deals, all contracted too late every year to manage supply to the country. No has answered the basic question as to why the Govt could not manage the purchase of LNG in the summer at 1/3 the rates. The price of gas today is also naturally related to the LNG fiasco and its shortage," she added.
Rehman said, "Currently Pakistan is facing an estimated shortfall of 2,200 mmcfd while the prices have become unaffordable for people. Obviously, the dollar exchange rate has an impact on this as the Rupee has dropped to a historic low of Rs176 against the USD. The government doesn't seem to have a plan to tackle this crisis as it has taken an ad hoc approach that has led the power sector into a terrible paralysis"
"Here's what really happened. The government purchased LNG cargoes at the historic high price of $30.6 per million British thermal units (mmbtu) now when it was being sold at $13 per mmBtu in the summer. They did not purchase or book cargoes when all other countries were doing it in the summer at much lower rates. Even in October they purchased LNG cargoes at a record price of $20.29 per mmbtu. All this could have been avoided had they ordered it at the right time which is the common practice but surprisingly not just the regulator, OGRA has remained silent on this, but so has NAB, when clearly an inquiry is needed into such criminal negligence. Long, inexplicable delays in the import of LNG spot cargoes caused massive losses worth Rs 10.6b to the Pakistani taxpayer for just FY21, and questions raised in committees of parliament remained unanswered," she added.
Rehman said, "There is still no explanation for why both the recent LNG suppliers they had contracted with had defaulted and refused to fulfil their contractual obligations. It is the government's fault that they gave LNG contracts to defaulting firms. Why didn't they do their due diligence and where is the NAB inquiry into this crisis? Why were purchasing rules not followed?More importantly, why are there no long-term contracts which assure stable supplies, when they can give us the energy security? No answers will be forthcoming except a blame-placing on previous governments! "
Highlighting the recent news of gas loadshedding, she said, "Gas Load Management Plan for winter 2021-22 includes providing gas to the residential sector only 3 times a day with bare minimum supply of LNG during December – March. How will people survive this winter season in these conditions? This is all because the government waited so long to buy LNG in the international market nor were any no long-term contracts secured. Comparing our situation with other countries like India and Bangladesh is absurd when their INR and BGT are higher than our food inflation rate of 13-14 % is way more than theirs. Our current account balance is in deficit while reduction in disposable incomes has made it impossible to buy daily food staples like wheat and sugar".
"Then there is the issue of iniquitous supply. Sindh is the largest contributor to nationwide gas production, producing 65 to 70% of it but itself is deprived of it and then the government complains that Sindh does not cooperate. The shortage in gas supply has hit Sindh particularly hard. Article 158 of the Constitution clearly states that "the province in which a wellhead of natural gas is situated shall have precedence over other parts of Pakistan in meeting the requirements from the well-head, subject to the commitments and obligations as on the commencing day." Not only is the government clearly in violation of the constitution by depriving Sindh of its due share, it is constantly messaging its ill intent of lowering supplies to the province that pays the highest business taxes and sends out high exports. The gas crisis in Sindh will hit not only jobs but also revenue generation. Karachi's textile industry contributes 52% share in the national textile exports but is now suffering because of the federal government's incompetence," she said while rejecting government's claims that the Sindh is behind the gas crisis.
Vice President PPP, Senator Sherry Rehman concluded by saying, "Every sector within the economy is connected and the state of the economy cannot be divorced from social wellbeing. Effective governance requires cohesive and robust policies but PTI has always taken the band-aid approach in the form of relief packages and loans, in the hopes of garnering media points. This approach is no longer working. The gas load shedding is crippling not just the wheels of commerce in the country but exposing Pakistani citizens to a harsh winter where their stoves don't work because of low gas pressure in the pipeline but the entire north of the country will face a cold, harsh winter now in 19th century conditions, with no heating in homes and workplaces. Tabahi Sarkar should explain why it has made such a mess of every sector in Pakistan, and show us what plans they have made for the winter" she concluded.