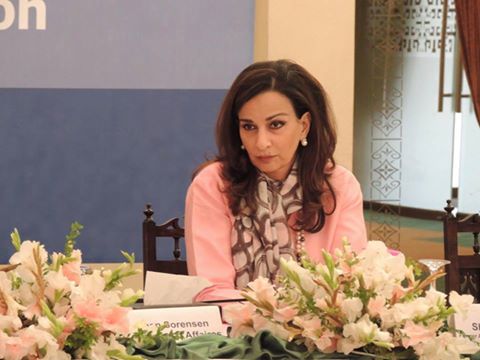 Islamabad, August 20, 2020: Speaking at the Second Conference of the China-Pakistan Economic Corridor (CPEC) Political Parties Joint Consultation Mechanism, Parliamentary Leader of the PPP in the Senate, Senator Sherry Rehman thanked their excellencies: Chairman Senate of Pakistan, Mr Song Tao – Minister of the International Department of CPC Central Committee, Liu Qi, Party Secretary of CPC Jiangxi Provincial Committee and Governor Balochistan for organizing the meeting at such a critical time.
Lauding President Xi's vision, she said, "We at the PPP pay particular tribute to President Xi's vision of the Belt and Road Initiative, under which China is stepping up to take global responsibility for global goals based on a dream of mutual growth and shared prosperity. China under President Xi has entered a new phase of taking up a global role. In this awakening of the dragon through a transformational vision, we appreciate that the CPEC is the poster-child of the Belt and Road Initiative, holding in its vision a potential new future for Pakistan in multiple possibilities that deepen both economic and political ties between China and Pakistan".
"Pakistan and PPP support a one – China policy and the sovereignty and continual growth of China. As we see China's investments power their way through the jugular vein of CPEC, it is a matter of both responsibility and pride that makes me say that the PPP is fully committed to realizing the dream of this great platform connecting the two countries. This vision is now shared and will be carried on forward by PPP under Chairman Bilawal Bhutto-Zardari's leadership," Rehman said while highlighting PPP's commitment towards CPEC.
She added, "Close interactions between our two parties are strong testimony to the dynamism of inter-party cooperation in driving CPEC forward. Over the years, the PPP government in Sindh has worked closely with Chinese officials and investors in facilitating projects, people-to-people relationships, cultural exchanges, and most importantly in ensuring the security of all those involved in CPEC projects. As part of our history of joint cooperation, PPP looks forward to continuing to work closely with local and Chinese stakeholders, including Jiangxi Province, in achieving our common goals and interests for the betterment of our people and the region".
"With employment opportunities an integral part of the CPEC dream, almost 1.1 million people can come out of the poverty trap in Pakistan. Better transport infrastructure will help Pakistan increase trade. It has been forecast that Pakistan's trade can increase by 9.8% if Pakistan implements reforms well in addition to transport infrastructure under CPEC. The project will create nearly 700,000 new jobs and add up to 2.5% to Pakistan's annual growth rate. Not to forget, the implementation of SEZs can also revolutionize the job sector and create new opportunities for entrepreneurship, which can be the key sector to accommodate the youth bulge as more than 60% of Pakistan's population is under the age of 30," the Senator said while highlighting the benefits of CPEC for Pakistan.
Discussing the changes brought about climate change, she said, "We hope that the Chinese government can bring the clean energy initiatives they have enforced at home, to Pakistan. It is our responsibility to ensure that we are doing the best we can to protect the environment. Together, we must move towards eco-friendly, sustainable and renewable energy sources".
Parliamentary Leader of the PPP in the Senate, Senator Sherry Rehman concluded her speech by saying, "In Pakistan, for CPEC to thrive and prosper, national unity is the need of hour. All provinces must be on the same page when it comes to the greater good of the country and all provinces must be included by the planning ministry in their roadmap project every day. CPEC goes beyond partisan politics for us, and that we are all united around one fundamental truth: In a world defined by unexpected conflicts and challenges, CPEC is the economic stabilizer that can steer Pakistan into the 21st century and become a connected highway to the future".