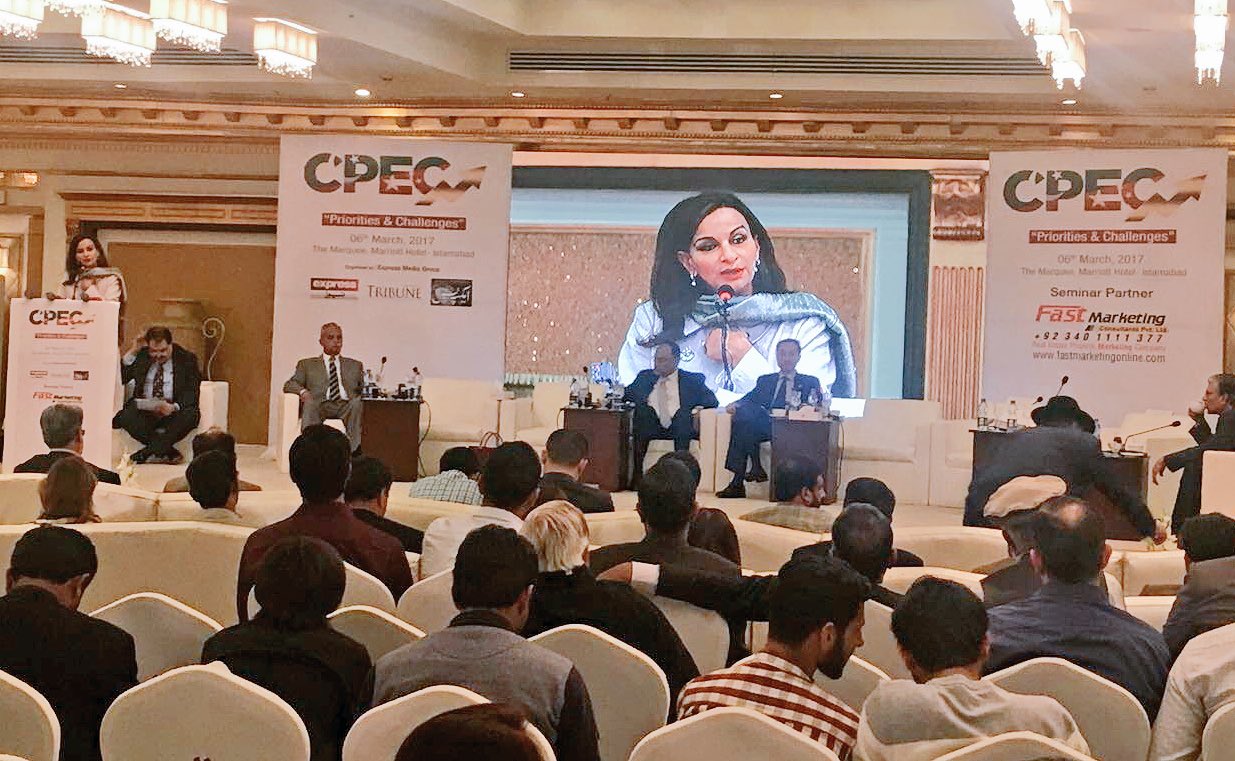 March 6, 2017, ISLAMABAD: Vice President PPPP, Senator Sherry Rehman addressing the audience at the Express Group's event, 'CPEC: Priorities and Challenges,' said "Pakistan is central to the success of CPEC. We should keep our differences aside when we talk about national interest. CPEC is an opportunity which should be operatioanalised together".
The $57 billion CPEC project is expected to be a shapeshifter for the economy of Pakistan. "CPEC should be seen as a huge opportunity for us. We want this to be an investment opportunity," stated Rehman.
"Keeping in mind the ever changing way the world is evolving, we are now living in an era known as 'The Asian Century'. The global order is changing and I believe that this is a new phase for our region and the world. China has a huge role to play in this," the Senator said in her speech.
"China is exporting a global surplus and projecting soft power through OBOR in ways it has never done before in connecting Eurasia. China is continuing its ambition of connectivity. You cannot roll back interdependence and connectivity, you cannot roll back human society," continued Rehman.
Speaking on the opportunity that CPEC poses for the youth of Pakistan, Rehman said, "Pakistan is in dire need of employment services. Our new generation is seeking new jobs and opportunities. Every year four million enter the labour force. With two out of every three Pakistani under the age of 30, you have a significant youth bulge and we need to provide the youth with respectable employment opportunities and China has played an interesting role in parting education".
Highlighting the important role the PPP government played in the initial stages of CPEC, the Vice-President PPPP said, "PPP has had its relationship with China even before others. During Zardari's regime, he visited China nine times and laid the foundation of China's comfort towards development in Gwadar".
The Senator concluded her remarks saying, "Connecting the roads was a vision for both countries. It is a vision that Pakistan had to seek connectivity and be seen as a responsible global economic actor".