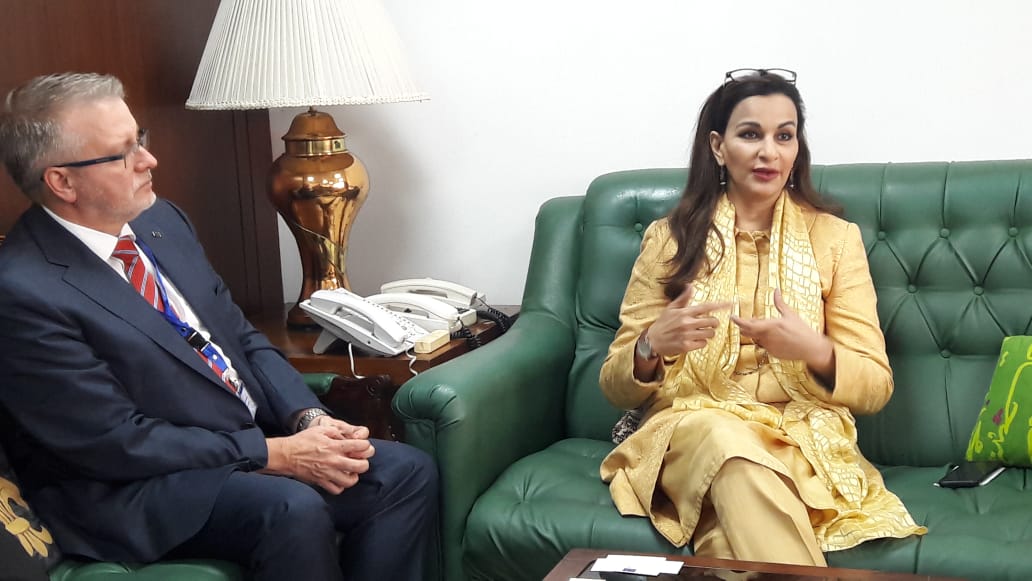 Islamabad, June 27, 2018: A four member delegation from The European Union Election Observation Mission (EU EOM) to Pakistan led by Michael Gahler paid a courtesy call on Senator Sherry Rehman, Leader of Opposition in Senate at Parliament House Islamabad.
The delegation briefed the Leader of Opposition on their mandate and overall workings during the Election 2018. Senator Sherry Rehman highlighted the importance of the presence of Election observers through such a huge electoral exercise as a general election in Pakistan.
"The people of Pakistan vest great hope in electing their public representatives. We hope in turn to raise the standard of governance and responsiveness to public needs each time a government is elected through an open democratic process. Ensuring a level playing field is a crucial norm for all political parties and candidates in the contest , and a process that is questioned either before, or on, or even after actual polling day is not going to have the stamp of legitimacy. We hope that is not the case. Elections have been contentious in the past, and it is the duty of the Election Commission to ensure that all complaints are taken seriously and in due time. We are engaging and watching the electoral process very carefully, and hope that all stakeholders including the caretaker government will strive to make sure that every level of transparency and neutrality is brought to the exercise."
Constitutionally guaranteed freedoms must be observed, as well as seen to be observed. The right to free and open media is one of them. We have received complaints in the Senate Committees about blockages and intimidation of certain media outlets, including newspapers such as Dawn, and are concerned that such curbs on access to free media may cast a shadow on the state of fundamental entitlements in the country.
The current political situation in the country also featured in the discussion, as did the right of voters to exercise free choice as well the free will of candidates to stand by the political parties and manifestos of their choice.
Rehman said that a peaceful , constitutional transfer of power through the democratic process is a powerful message of stability and directional change for Pakistan, and that she hopes that complaints of intimidation and pressure of candidates to change party loyalties does not become a norm that tilts the playing field in any particular direction.
"We all welcome higher standards of transparency and justice in public life. It must of course be seen to be applicable all round" concluded Rehman.