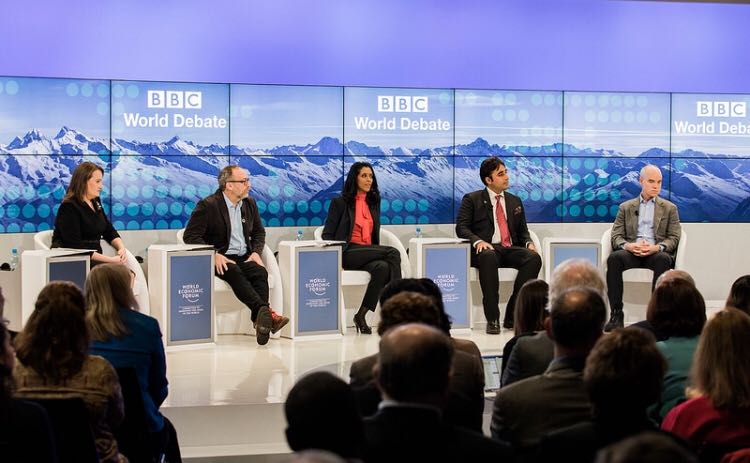 January 27, 2018, ISLAMABAD: PPP Chairman Bilawal Bhutto Zardari concluded a successful trip to Davos, Switzerland where he attended the World Economic Forum's (WEF) 2018 Annual Meeting accompanied by PPPP Vice-President, Senator Sherry Rehman.
The Chairman had a packed schedule of engagements for his WEF debut. He kicked off his day at a packed hall on BBC World Debate Davos with renowned names such as Joseph Kahn, Managing Editor of New York Times, Anna Belkina, Deputy Editor in Chief of RT, and Jimmy Wales, Co-Founder of Wikipedia. The panel moderated by BBC's Zeinab Badawi deconstructed the very real fake news and disinformation pose to democracies. The Chairman's views on the intersect of fake news and politics provoked a fresh debate on the politics and fake news by both local and international media.
For their second day at Davos, Senator Rehman and the Chairman attended a breakfast hosted by the Pathfinder Group for the Pakistani delegates. The Chairman also led a session on countering violent extremism.
Later in the day, the Chairman participated in WEF's Instagram Project and gave his perspective on how to tackle the global rise of discrimination. He also emphasized on the need to develop a comprehensive set of climate solutions on an international level, to fight the threat of climate change.
29 year-old Bilawal was the only Pakistani invited to the young global leaders dinner hosted by Børge Brende, President of WEF and Jared Cohen, CEO of Jigsaw. The Chairman met with other high-profile attendees including Jared Kushner, Prince Hussein bin Abdullah of Jordan and Haakun Magnus, Crown Prince of Norway.
The Chairman concluded his trip with string first interview with the Indian media, which has gone viral in its strong, measured defence of Pakistan.