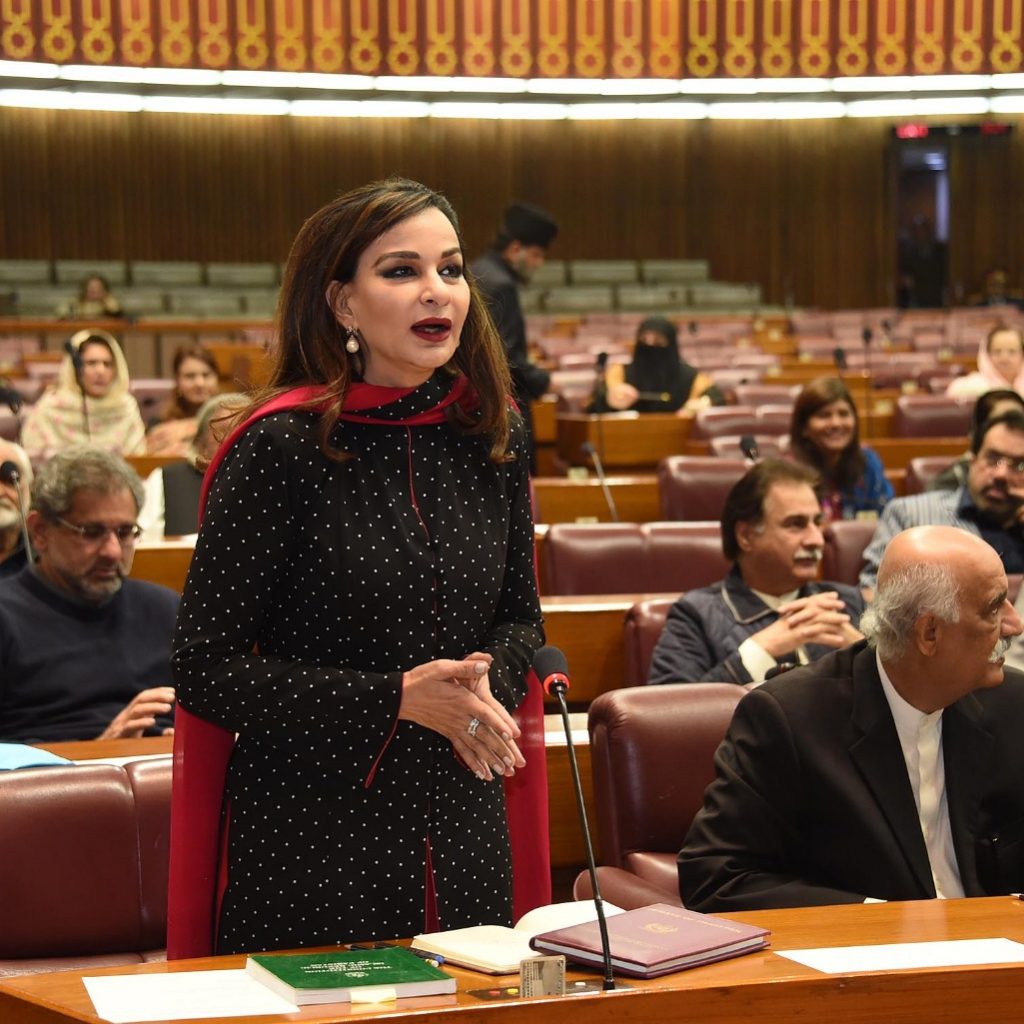 Islamabad, May 24, 2021: Speaking at the requisition session, PPP Parliamentary Leader in the Senate, Senator Sherry Rehman said, "What's happening in Palestine is an important matter and this requisition has also been called to discuss the current situation. It would have been good if the Prime Minister had also understood the severity of the matter and attended this session".
"The atrocities committed by Israel are in front of everyone. What's happening in Palestine is genocide, massacre, ethnic cleansing and war crime, it is definitely not a conflict. Unarmed Palestinian worshippers in Masjijd Al Aqsa were attacked in the holy month of Ramzan. It is being labelled as an human rights issue but it is also about Muslims," she added.
She said, "The recent Israeli attacks are the worst that Palestinians have seen since the 2014 war. According to the United Nations Office for the Coordination of Humanitarian Affairs, at least 258 buildings in Gaza were completely destroyed in the fighting. About 1,000 individual homes have been completely destroyed, 700 have been severely damaged, and another 14,000 home units have been partially damaged. Their lands and properties are being taken away from them and no one has been able to say anything except the customary condemnations".
"Force is not a solution but there's a one-sided war going on there just like how it's in Kashmir. Innocent lives are being taken but the world is silent and there's no accountability. Palestinians are without food, medicines, electricity and Covid vaccines. According to the Palestinian Ambassador, people are under a blockade there; even Red Cross and Red Crescent do not have access which is unheard off as they are even allowed in war zones," she added.
She said, "OIC's lack of action is concerning. Shaheed Zulfiqar Ali Bhutto laid the foundation for the case of Palestine by hosting the 1974 OIC summit where he said that the international community and particularly those States which sponsored the partition of Palestine in 1947 bear the heavy responsibility to redress the injustice perpetrated on the Palestinian people. He stressed that this is our obligation not only to the people of Palestine and not merely to the cause of Islamic brotherhood but also to the larger cause of universal peace. His efforts were lauded by Yasser Arafat himself".
"Had any other country done this, the world would be talking about sanctions. But here we are being told that Israel has the right to self-defence. Targeting innocent civilians including children, and not making any efforts to avoid these casualties during military attacks, are both indictable as crimes under the fourth Geneva Convention. Palestinians are being forced out of their homes and planned ethnic cleansing is going on against them. Why is the world not discussing sanctions against this extremist regime in the UN? Are they not the children of the same God?" she questioned.
She said, "Pakistan is part of the anti-terrorism force but what is it doing and what terrorism is it defending? This is the worst state terrorism that you are seeing in the Middle East today which is burning because of the asymmetry and the genocidal ethnic cleansing that Israeli forces are doing".
"Numerous Western organizations are calling out Israel for it's violence. Human Rights Watch's latest report, A Threshold Crossed: Israeli Authorities and the Crimes of Apartheid and Persecution states that what Israel is doing is apartheid and persecution. Israel is obligated under the Fourth Geneva Convention. Why is no one questioning in the UN on Israel's breach of more than 30 UN Security Council resolutions?" she questioned.
"She said," PPP's support for Palestine is acknowledged by the world. We have always believed in the right of self-determination as an inalienable right of Palestinians. Their ambassador thanked SMBB for giving them land and President Zardari for a grant of one million dollars for the construction of Palestine Embassy in Islamabad. If Shadeed Zulfiqar Ali Bhutto and Mohtarma Benazir Bhutto were alive, surely a lot more would have been done".
"Had the Prime Minister attended this session today; I would have urged him to raise his voice and ask the world what it is doing to help the Palestinians. Passing resolutions is not enough. We all must do more," concluded Vice President PPPP Senator Sherry Rehman.