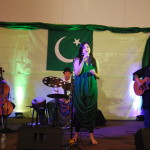 Pakistan Today, July 19, 2012
Sherry holds Sufi concert to show Pakistan's 'softer side'
WASHINGTON – Pakistan's Ambassador to the United States Sherry Rehman on Tuesday night held a concert to entertain and engage her counterparts in Washington. She said that the event was held to counter the negative stereotypes attached to Pakistan and to show the United States that Pakistan has many things to offer to the world. She said Pakistan has emerged as the regional hub of Sufi music and has the largest number of pop fusion groups. The Open Embassy Evening was attended by senior American officials from the State Department, White House and various members of think tanks.
Democratic Congressman Dennis Kucinich, a Democrat from Ohio, and a longtime advocate of end to unilateral actions like drones, attended the dinner, and was seen in close conversations with the
Zeb and Haniya, the two cousins, who hail from Khyber Pakhtoonkhwa, treated the appreciative gathering to some of their popular numbers including Bibi Jan and several others in Urdu, Pashtu and Persian languages.
http://www.pakistantoday.com.pk/2012/07/19/news/national/sherry-holds-sufi-concert-to-show-pakistans-softer-side/