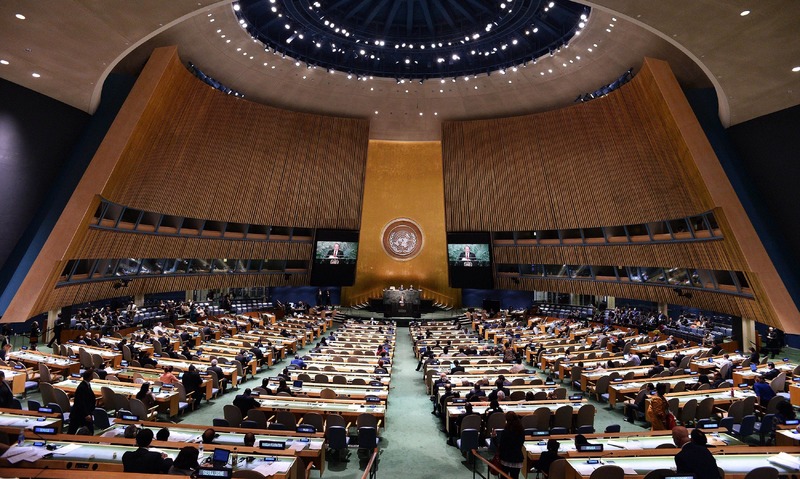 Sherry Rehman
The News
Sunday, October 04, 2015
The prime minister's speech at the UNGA can only be assessed as neither a whimper nor a bang. It was perfectly competent, and delivered in the same vein. But was competence the need of this dark hour in the region's transition? Nobody expected fire in the belly. The cavil is that other than mention of Daesh and costs of the war on terror, it spoke to the last decade, not this one.
This is the decade of states dissolving into civil war and hyper-powers lost for a grand plan. With epochal tragedies unfolding after long wars from Afghanistan to Syria, and with Pakistan's porous western border open to new perils, the search for reframing and securing Pakistan's place in this new global disorder was not evident at our UNGA podium.
Islamabad's Foreign Office did a good job at rebranding old CBMs and conflict-resolution advice into a new 'peace formula' with India, but it missed the power of a real-time strategic play. Clearly, the ghost of conferences past, and their drafting deficits, hung over this one. The speech should have been more than just a smart compensation play for the erasure of Kashmir from the last joint statement put out by India and Pakistan at Ufa at the SCO summit. Its reach and scope should have been much more, given that Pakistan is at a perilous bend in its regional history.
On the face of it the four-point formula is a perfectly good one. ?One, the Line of Control in Kashmir definitely needs to see de-escalation in violence, so that the 2003 ceasefire teeters back into place. In fact, the same is needed at the alarmingly hot Working Boundary, close to Sialkot, where civilians routinely get injured or killed due to the uptick in shelling from the Indian side. The fact that the Indians complain of similar injuries should give all the more bilateral impetus to privileging dialogue over conflict. On this the Rangers-BSF meetings seem to have had medium-term calm, so tactical steps already yield outcomes. Second, the prioritisation of Siachen redeployments makes sense from any altitude, as Bhutto and Rajiv Gandhi had decided in 1989. Third, the de-militarisation of Kashmir is another old, perennial CBM put into play which, although ignored, should be put on the table. And four, the tamping down of the use of force, well, who can have issue with that. So really, better this than empty words.
But the problem is not the formula. The problem is that the PM's speech spoke to a time when Pakistan did not face an unprecedented three-front security challenge: one from terrorism at home, the other obviously from an escalated war of words with an extremist regime in Delhi, and the third from a dangerously insecure Kabul government. This was not the time to make a business-as-usual, crowd-pleasing boilerplate speech.
It was a lost opportunity to warn the global community of the dangers of treating trans-boundary terrorism as single-state responsibility; of the potential impact of state fragility such as in Afghanistan, and the blowback from an economic and security meltdown there.
More than a four-point formula, Pakistan's case should have been about two principal inflection points – one on Afghanistan and the other on India.
On Afghanistan, where world attention is already dimming, I would have asked, who will share the burden for the flood of refugees, as well as insurgents from across our open border? Is history going to re-dig new trenches of blood and social disorder for Pakistan as it did 30 years ago when we were left with the deadly fallout of extremist ideologies, guns and drugs from the last partnership with the international community in Afghanistan? I would also have asked why Pakistan is being asked to level up the Afghan peace process with key elements of the Taliban while it is simultaneously enduring harsh invective from Kabul for every Taliban advance we see in Afghanistan.
Why are the world's policy failures in Afghanistan being dumped on Pakistan? Has Kabul decided whether it wants to talk to its insurgents or fight them? We will support either process, but don't tell us to take responsibility for failure on both.
On India, I would have said that as two responsible nuclear states, I would expect both governments to find pathways to peace, not single-lens roadblocks such as terrorism. Sequencing cannot replace simultaneity in an age of global terrorism, nor can we converse only and until the din of bombs dies down, as our neighbour insists. People need to wake up to the new reality of a Pakistan that is waging one of the world's rarest successful counterterror operations at multiple levels on our own soil.
Why on both counts is Pakistan still the world's favourite whipping boy was a question worth asking.
This is after all, the United Nations General Assembly. It needs to be more empowered and better resourced. To that end, Pakistan provides serious peacekeeping muscle to the blue berets, and our soldiers lose lives and limbs in the international trenches against terrorists from the Sahel to the Sinai. Is it not true that Pakistan has pledged one of the largest troop contingents to UN peacekeeping operations, more than its neighbours both east and west, who continue to coerce Islamabad at the global stage? But who is going to keep the peace on our Line of Control in Kashmir where the UN observers are ignored by India?
The four-point formula is a good scramble at presenting the world with policy pro-activity from Pakistan. But a tone-deaf Delhi leaves little room for levelling up the non-existent peace track.
Pakistan has been trying to move on from looking at India as its principal external threat, but the new India seems to focus stamina and partners to bully Islamabad at every juncture. I would have asked for Delhi to be more secure as a rising global power in reducing the heft of its military capabilities against Pakistan.
On balance, we need to stop looking at foreign policy through an India-centric lens. Pakistan's foreign policy can have great potential to transform regional futures, beyond bilateral scuffles. And that is a point worth making at all international forums. Given its nodal position with access to warm waters that could pivot on trade and energy, Pakistan can well leverage its strengths as well as intellectual capital to lead the region through an onset of climate change stresses and infrastructural deficits.
Despite the China juggernaut rolling through all the way from Kashgar to Gwadar, initiated by the last civilian government, foreign policy execution is showing the strains of several internal and regional stalemates. Civilian-military disconnects and political discord in policy-formation continues to hamstring progress that is incrementally possible. This needs to change, with far leaner coordination mechanisms for a single-spigot policy transmission line.? Maybe then we will see a strategic vision that can pilot Pakistan out of the gathering storm.
The writer is chair of the Jinnah Institute, vice president of the PPP, and former ambassador to the USA and federal minister for information.
The article was originally published here.