Allies have had a rocky year, but the relationship can be salvaged
By Sherry Rehman
Chicago tribune May 20, 2012
The NATO summit in Chicago will focus on the endgame in Afghanistan on the heels of U.S. House debate on bills that will shape the nature of the U.S.-Pakistan relationship. The tone of this debate and the diplomacy of the Obama administration will send a clear signal to the 180 million people of Pakistan as to whether the world's oldest democracy will stand with one of the world's newest democracies to defeat terrorism and extremism for a politically stable and economically viable South Asia. Many are pessimistic.
However, a series of confidence-building measures could recast our bilateral relationship. If the war against extremism is to succeed, the war of words between democratic allies must end.
The U.S. and Pakistan have had a rocky year. The unilateral raid on Abbottabad, the Raymond Davis CIA provocation, the U.S.-led NATO air assault in Salalah that tragically killed 24 Pakistani soldiers and the continuing unauthorized drone attacks on Pakistani soil have frayed our 60-year special relationship.
We can dwell on the things that have separated us or work toward rebuilding the relationship.
Pakistan has taken the first step to restoring normalcy to U.S.-Pakistan relations by working to reopen the NATO supply routes that were closed after the Salalah tragedy.
Significant progress could be made toward resetting the relationship between our countries if the U.S. were to:
•Finally apologize for the battlefield deaths at Salalah.
•Reimburse the Coalition Support Funds — U.S. repayments to Pakistan for the cost of battling terrorism — owed to Pakistan, a very small part of the $78 billion that Pakistan has lost on account of the war against extremism since 2001.
•Increase the sharing of counterterrorism intelligence to assist our military in combating extremism.
•Cease the controversial drone operations that violate our sovereignty and the norms of international law.
•Shift to a policy of trade not aid by providing enhanced access to U.S. markets for Pakistan's exports.
These game-changing steps would serve as a deathblow to extremist expansion in the region.
As the U.S. prepares to exit from South and Central Asia — again — in 2014, those of us who live and will remain in the region have a legitimate interest in a stable and responsible security transition in Afghanistan.
Pakistan has paid an enormous price in our battle against al-Qaida, with more than 37,000 civilians and nearly 6,300 security forces killed. Former Prime Minister Benazir Bhutto gave her life fighting this scourge. Given this level of clear commitment, coupled with sacrifice, it is unseemly for our resolve against terrorism to be questioned by the West.
The 46 nations fighting in Afghanistan represent countries with an aggregate gross domestic product of more than $365 trillion, and an aggregate military force of nearly 22 million troops. When this unprecedented coalition cannot contain the terrorists on the Afghan side of the border, it is naive to assume that Pakistan alone can completely eliminate terrorist activity on our side of the border. We have 140,000 troops in daily combat against the militants in FATA, Pakistan's Federally Administered Tribal Areas, and Waziristan. We are hardly passive allies in our existential battle against militancy.
America may not be aware that our successful (and costly) effort to clear thousands of terrorists from Swat, Bajaur and Mohmand has been undermined by militants who now find sanctuary in eastern Afghanistan from which they continuously attack our civilians and our soldiers. Despite the enormous efforts taken and huge casualties suffered, Pakistan's efforts are in vain if NATO cannot provide the anvil to Pakistan's hammer.
The threat to Pakistan is real and constant. The daily attacks shatter lives on a level we could never have imagined before 2001. Each military offensive launched in our tribal areas results in immediate attacks on our schools, hospitals, markets and religious shrines across our nation. Yet we are resilient. We continue the fight.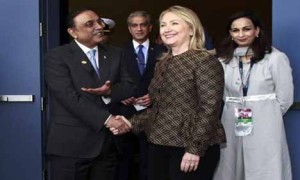 U.S. Secretary of State Hillary Clinton (center R) shakes hands with Pakistan's President Asif Ali Zardari before a bi-lateral meeting at the NATO summit in Chicago May 20, 2012.  REUTERS/Bob Strong
My embassy updates the U.S. Congress on a weekly basis of the toll this fight has taken on the men, women and children of our country — a staggering 43,726 confirmed dead. Just last week an additional 34 Pakistani civilians and 18 security personnel were killed in my country as we fight this war. This is our reality.
While some may question our commitment and ask whether we are doing enough, the truth is that Pakistan — our government, civilians and our soldiers — want a swift victory over terror more than anyone. Our existence depends on it. In order to succeed, America and Pakistan must forge a new beginning together, starting today.
Sherry Rehman is Pakistan's ambassador to the United States.