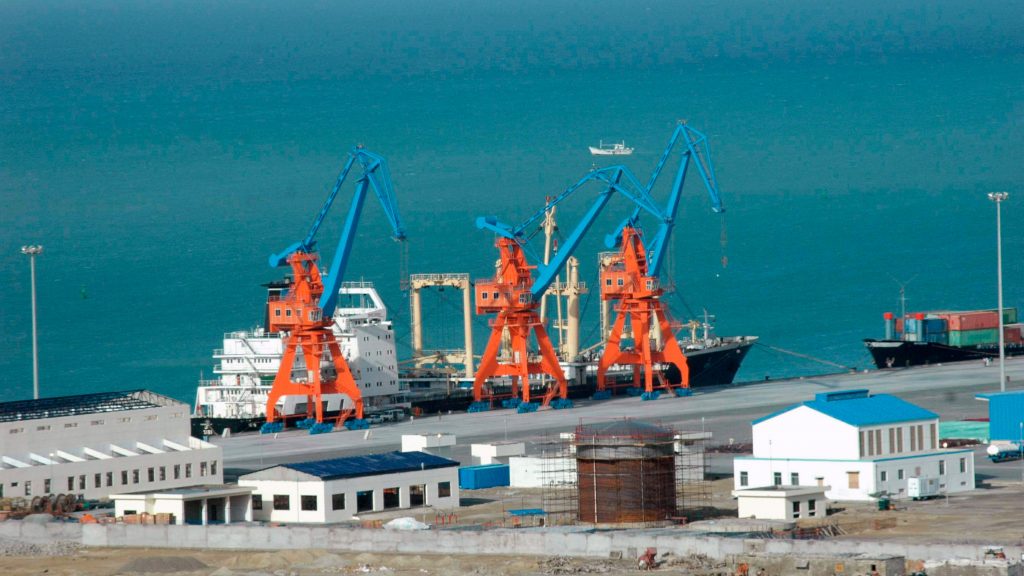 By Sherry Rehman
As the big global strategic picture shifts on its axis, Pakistan has opportunity knocking in two broad gradients, if not more. The only worry is that even if the knocks have woken up Islamabad, is it able to make the pivotal dots connect?
The obvious, seriously big transformational knock is the loud Chinese thud on the door, the big Pacific moment, which in this instance is welcomed across the board in Pakistan. The second inflection point is the new global Iran bargain, on which Islamabad's un-readiness to hedge smartly on regional balancing acts may cost Pakistan in terms of economic and regional security.
At least on China, unity of purpose has been forged among all players, and decision-makers are on the move. Clearly, the China corridor can change the game for Pakistan. But if the opportunity is to mean anything in spurring growth, jobs, infrastructure, trade and strategic clout, two things must happen.
Since its workers and engineers were killed in 2004, China has placed security concerns for its enterprises front and center. Islamabad cannot be sanguine about Beijing's apprehensions, as securing the CPEC will not be easy. This is no slam-dunk: Given its legitimate security concerns, China has withdrawn support for six energy projects over the last one year alone.
On this score, Pakistan has actually moved to mobilize unprecedented support. Denying access and oxygen to the East Turkistan Islamic Movement (ETIM) and its terrorist partners is key to this effort, as are extensive CT operations including Zarb-i-Azb. The commitment of nine army battalions and six wings of the Civil Armed Forces in a special consignment to protect Chinese manpower along the length of the projected CPEC should certainly address some concerns. Given the urgent need to connect Gwadar to Kashgar, the good news is that the Frontier Works Organization has begun civil works on the highway-belt part of the enterprise. But its proximity to militancy-hit areas in Pakistan and Xinjiang province in China – home to the soft Uighur underbelly of the restive Muslim population – will mean that securing the CPEC's mega-network of pipelines, highways and railway lines will require nothing short of 24-hour patrolling and surveillance. This level of coordinated security will need national security institutions outside the military as well, because without this commitment Pakistan will simply be unable to capitalize on the Chinese opportunity.
Second, given that the $46 billion investment committed under the CPEC is all outlayed as private investment, at best facilitated by some of the famous Chinese reserve surplus as credit, it is clear that Pakistan has to organize its investment climate to optimize benefits. So far, the signs are wobbly. Despite the government's comfort with the IMF's supportive messaging, Pakistan's investment climate has led to a drastic 58 per cent slump in FDI, the lowest levels in over a decade. There has also been no improvement in Pakistan's Ease of Doing Business indicators, with a serious need for regulatory reform and readjustment of the tax structure. Both households and industries are out on the streets, and crisis after crisis continues to reflect poorly on institutional investors within and outside of the country.
The Chinese investment plan has also triggered a national debate on public capacity to undertake and manage the envisaged projects. Strengthening Pakistan economically may well suit Beijing's strategic interests, but Chinese companies are hardly driven by the same impulse. In fact, quite the contrary. Islamabad should not forget that Chinese companies have backed away earlier from energy projects in Pakistan, owing to public sector incapacity, unclear tariff structures, and other regulatory tangles. So while Chinese investment offers a historic opportunity to rescue Pakistan from its enduring energy crisis, Pakistan needs to do more to make good on that opportunity by pushing through crucial reforms in the energy sector.
The problem is easy to identify, but hard to overcome and execute as reform. Despite a strong public commitment to upgrading Pakistan's energy sector in the election campaign, the government has been unable to lift this core sector out of the deep governance malaise that hobbles its capacity to absorb the quantum of project financing coming from China. Recent LNG imports from Qatar have further underscored the government's inability to draw a clear policy framework before undertaking such projects.
The Iran opening should also be taken more seriously, mainly because Tehran is a neighbor with a hard border and shared coastline. While the world debates President Obama's bold American re-set with Iran, Pakistan should lose no diplomatic and strategic space in capturing the entry-points emerging out of this seismic shift in global re-ordering. There is no doubt that in the short term, the Vienna breakthrough will ramp up regional tensions in the Middle East between Saudi Arabia and Iran. Yet, for Pakistan, the Iran deal should be a key point in the strategic curve of mitigating hazard and hedging on new resources, hydrocarbon as well as geopolitical. The diplomatic and strategic management of Tehran's footprint in Afghanistan is crucial for peace prospects in a country under a strong Taliban summer offensive, while the influx of a bridgehead of Daesh/ISIL fighters is a clarion call for collective action against such forces in the Central-South Asian region the new terrorist groups have identified as "Khorasan." While it may be premature to pitch Islamabad as the core unifier between conventional rivals in the Middle East, in the medium-term, talks between Middle East players will be needed to prevent meltdown and contagion from transmitting across porous borders. Pakistan already has one long open border on the west to contend with, with older challenges still unresolved. The new one from the MENA region is going to need re-balanced alliances for homeland stability across conventional strategic divides.
Essentially, the Iran opportunity should first be leveraged to build energy and trade connectivity within the Eurasian region, as many routes get shortened via a sanction-free Tehran. Russia is also doing more than watching this space for investor movement. But so far, caution seems to be the defining trend in Islamabad, slowing momentum on even PSDP allocations for the gas pipeline that was started by the last government in anticipation of Iran's imminent re-entry in the global economic system. The SCO Summit in Ufa was also an opportunity where Islamabad dropped the ball on meeting the Iran delegation. Significantly, other countries are moving fast to change their post-sanctions business relations with an alacrity that leaves Islamabad looking sluggish. Iran's reentry in the global economic order can also help reverse a worrying trend in Pak-Iran bilateral trade – down by 75 percent since 2009 – if the government can establish clear trade complementarities and prevent Pakistan's trade deficit from widening even further. Yet no trade delegations are lining up for Tehran, despite business pressures to move fast.
This needs to change, if broader trends in the Asia-Pacific region are to be captured in Pakistan's favour. If expedited, for instance, the Indian Chahbahar infrastructure will change the competitive and strategic environment. Without dubbing this a new rivalry in the roiling Middle East, and without disturbing strong ties with KSA, Islamabad should take note and plough forward with building trade, energy, and strategic momentum with the neighbor that sits on the pivotal Strait of Hormuz. As it stands, Pakistan has most to gain from Iran's gas reserves, known to be among the highest in the world, but it is clear that gas imports from Iran will have to be managed differently than say, the line from Qatar. Because of contractual binders in the crucial Iran-Pakistan pipeline the government will have to ensure greater transparency and better administration.
Most importantly, as key players in Afghanistan, both China and Iran can have a huge impact on Pakistan's ability to work the positive trend lines that President Ashraf Ghani is still promising from Kabul. Even if resource and troop-commitments are reviewed in Washington after the amplification of the Daesh/ISIL threat, the American behemoth's withdrawal will leave a vacuum that only regional commitments to peace can fill. For Pakistan, peace in the region is essential to re-building Pakistan's internal fractures, especially given the strong political will needed for the fight against extremism and terrorism. The opportunity is knocking, it is up to us to open the door.
Senator Sherry Rehman has served as Pakistan's Ambassador to the US and Federal Minister. She is Chair of the Jinnah Institute, Islamabad. @sherryrehman
This article was originally published in The News.