It doesn't take Benazir Bhutto's birthday to make one think of her in so many ways. The question I get asked most, though, is what it was like working with her. The short answer is, no one day ever felt like another with her. The longer answer is, she had the intellectual and emotional energy to build ties while she worked, to re-shape another's cognitive and work-life universe while still giving of her self. This was a sort of altruism unusual in politicians. While being a hard-nosed political player, what was most important to her was policy in all sizes and shapes. That meant working within a framework of values and ideas that one had to be consistent with. Everything was tested against a standard, right or wrong, and little went by without a full-on policy dialogue that would trickle up to her in layers until stakeholders on the ground had agreed on a formula. Working with her as the PPP's public policy president well before becoming the party's information secretary, I found her appetite for policy-commitment quite exceptional.  Working with her meant being challenged as well as rewarded intellectually, as she was always looking for new ideas while deconstructing, and often respecting, convention. We all know how she fought for regaining space for democracy. We all know that she had the courage of a globally lauded hero and the tenacity of a gladiator, but it was her human rights record that went largely unsung in her lifetime even though she worked relentlessly on that agenda. In every policy paper or speech we wrote, she fought for women, she fought for the dispossessed and she fought for the homeless. In every policy guideline, she worked the unemployed in, she worked the labour in, she worked the farmer in.
While writing the 2008 election manifesto, a contest she tragically did not live to see, we were in a constant strategic back and forth. In every social policy conversation, her basic humanity always came through. One day she woke me up at two in the morning on a call from Dubai, when she wanted a boarding school system devised for poor children and basic nutrition provided for public schools. Another night she argued for two hours on the phone over why we could not have higher public spending to generate employment. The conversation ended with our devising a public works programme for providing guaranteed employment to the lowest income-poor families. She wanted Pakistan to be a welfare state on the lines of the Scandinavian social democracy model, with social nets for the poor and a strong market economy that provided jobs and raised a middle class. She would have been proud to see that after several refinements with our internal policy group, this programme morphed into the Benazir Income Support Programme in the 2008 cabinet.
Her sense of timing was both acute and often prescient. It was almost as if she knew that her destiny was calling her to fulfil her legacy. She was a woman in a hurry, on a mission to transform Pakistan. She made us build a 100-day action programme for her next cabinet so the PPP could deliver more on her promises before the axe fell on us.  She worked non-stop to ensure that her vision was translated into our laptops and mental hard drives, almost as if there was no time left. Until her last day, she worked over 18 hours a day. Her last email to her senior colleagues from the BlackBerry would often be between 2.30-3.30am. The next round in the morning would start at 6.30, before she ventured out to cut a huge swathe into the day.
But she was a leader whose vision went farther than any others. Why? Because she was ahead of her time, and because she had extraordinary courage. She was the only leader who saw that if we don't step in the way, the fires of extremism will engulf Pakistan. This was the challe
nge that kept her awake at nights as much as dictatorship did, as much as mass hunger did. She dabbled in the waters of realpolitik, but remained clear-eyed about legitimacy. Any dialogue with any government was always for ensuring a level playing field. That was all she asked for: an open contest and a fair election.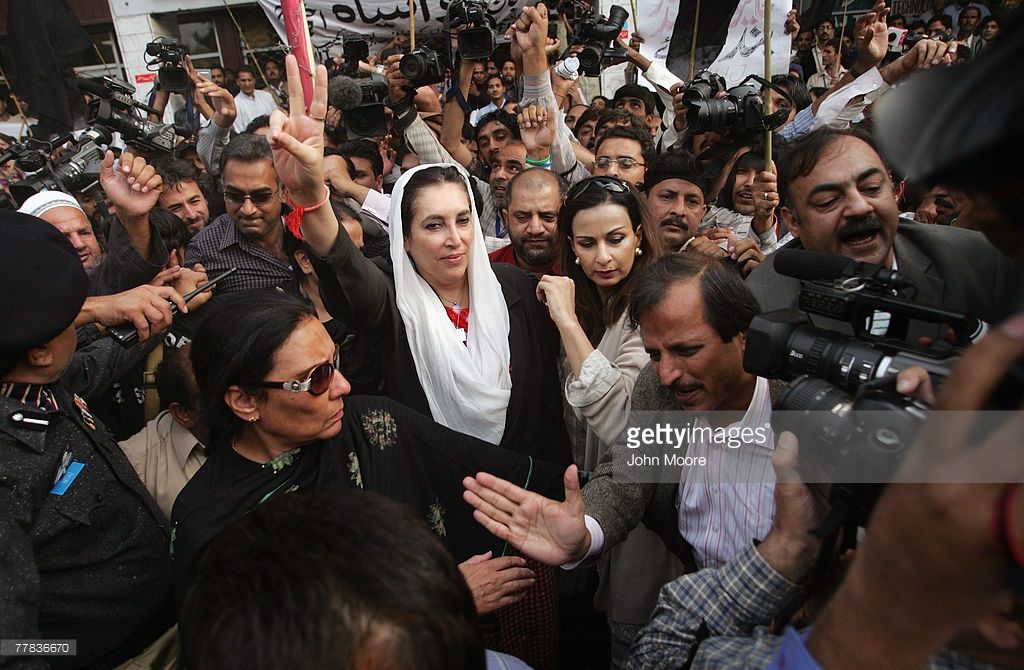 This was the PPP's strength, which she had turned into a clear brand for the party. Her father had given his life for it, and she always said that one day she too would have to as well. Her fear was not that she would be snuffed out in the prime of her life. It was that she would not be able to make Pakistan safe again for its children. Benazir Bhutto led the one mainstream party who owned the battle against religious orthodoxy and militancy as Pakistan's internal challenge. And she was the only one willing to mark clear lines in the sand for it. There was to be no compromise on women's freedoms, no expedient compromises with those who targeted our non-Muslim compatriots, with those who targeted our innocent civilians and soldiers. She knew it was never going to be easy. It was never going to be overnight. The institutional capacity for governance was fragile. But she had the long view of life. She was going to start fixing some of it through a reform package and tough security measures. To her this was never another country's war. It was Pakistan's battle for survival.
I end by quoting one of the speeches I wrote for her at a global forum: " I still push for a new deal for women and men all over the world, not just the Muslim world. I still have a new dream for Pakistan in my head. But like so many other women in the world, I have opportunity in one hand, and its opponent forcing my other. It is choices that move us forward, and the judicious exercise of our choices that make the difference. Women and men are here to make their mark on the world, and I will always be the first to show them the way."
Bibi, you are still showing us the way and on each birthday Pakistan will honour you as its finest.