China calls for consensus on CPEC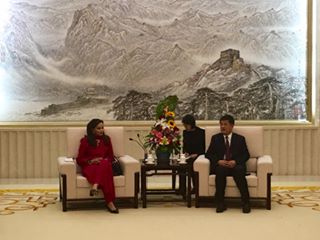 BEIJING: Political consensus is essential for fully exploiting the potential of the China-Pakistan Economic Corridor (CPEC), stressed the Vice Minister of the International Department of the Communist Party of China Zheng Ziaosong to the visiting delegation of the PPP.
"Political consensus coupled with unanimity in approach is essential to draw the maximum benefits from this mega project which is a game-changer for the region," said the vice minister. He expressed this view in a meeting with the visiting delegation in Beijing.
Zheng also dispelled the impression that CPEC would only benefit China and Pakistan. He said, "more than 50 countries would reap benefits from this $46 billion project."
With regards to political unity on CPEC, he said, "in China there is one-party rule; however, in Pakistan, things are different. I don't want to sound critical of the Pakistani political arrangement — I just want to imply that there are more chances of political division when there are multiple political parties" adding that national unity is required, especially on projects like CPEC.
The vice minister also paid homage to the PPP founder Zulfikar Ali Bhutto and Benazir Bhutto for improving and cementing Pak-China ties.
PPP Vice President Senator Sherry Rehman, who is leading the delegation, said CPEC would be a valuable addition in the joint ventures taken by the two countries. Rehman added that CPEC will have far-reaching and positive implications for the region. "Pakistan is fully committed in providing foolproof security to Chinese nationals in general and especially those who have been assigned to the CPEC," she said.