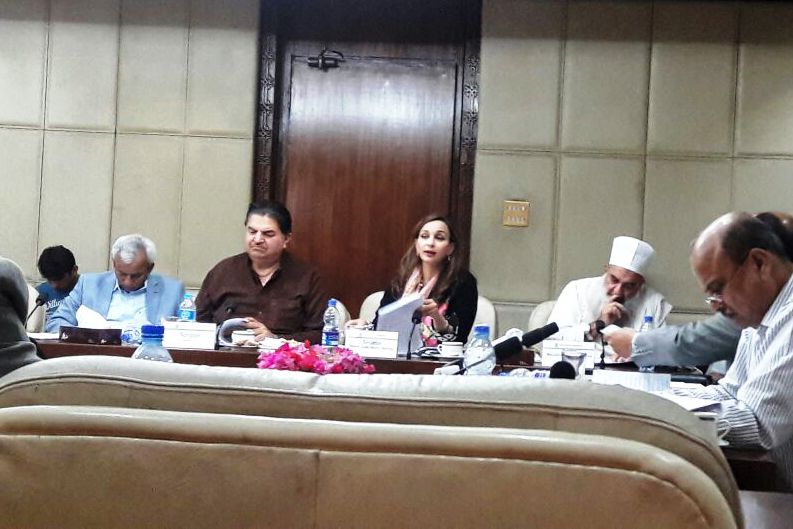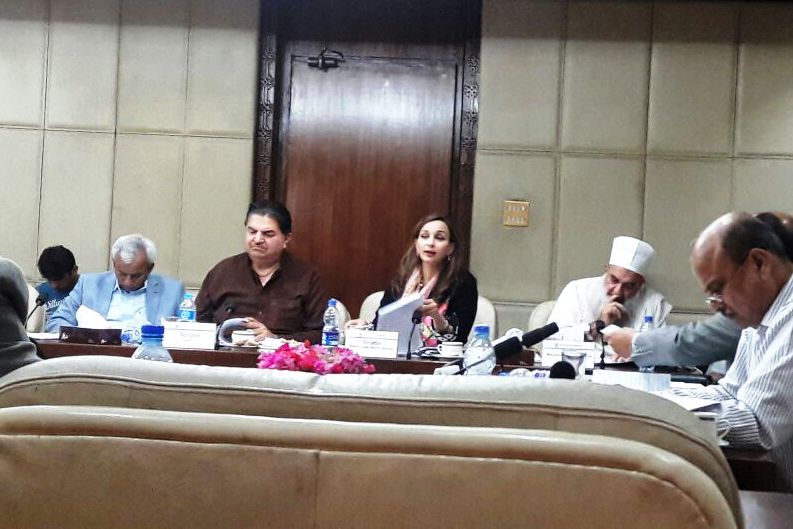 Note:A PDF version of the bill is available here
March 7 2016, Islamabad: Moving a bill in Senate today that would guarantee all women the right to vote as enshrined in the Constitution of Pakistan, Senator Sherry Rehman said, "It is high time such a law was passed, given that in every election, be it local or provincial or national, we hear and see many women being excluded through force or pressure by alliances of local leaders."
Making her point on the much-needed bill, the Senator said that it was important to note that because of such practices, women are increasingly being denied the right to vote, especially in remote areas where media or rights enforcers and political parties are unable to reach in time in order to change the game. "This bill, she affirmed, "will make it mandatory for the Election Commission of Pakistan to order a re-poll in all such constituencies where reports and data conclude that women polled less than 10 percent of the vote."
Rehman lauded the service of women leaders and activists in attempting to change the conditions, discourse and rights agenda for women over the years, saying that she was fortunate to have worked with the greatest leader of them all, Shaheed Mohtarma Benazir Bhutto, who had been an invaluable proponent of women's rights, inclusions and empowerment at every level.
"The PPP did not accept such forced exclusions and marginalization of women when SMBB was alive; she always tried to ensure that all those who coerce women from exercising their fundamental rights will be penalized. Taking that vision forward, I am on the eve of Women's Day, asking the parliament of Pakistan to disallow the alarming rise in such forced exclusions of women both as voters and as candidates in many constituencies and stories we don't always hear about," said Rehman on the floor of the upper House.
"Women's votes are increasingly showing a disturbing downward trend, despite an uptick in broader votes registered. Official data tells us there were 86.24m registered voters in 2013, including 48.61m men and 37.63m women. The latest figures show an overall increase in registered voters to 93.06m; within that group however, male voters grew up to 52.36m while female voters add up to 40.7m, revealing that voter registration of women has not kept pace with that of men," said the Senator, citing disturbing statistics.
"This is bad news, especially when reports from Dir, Hangu and other areas consistently show that the local bosses are using verbal agreements to keep women from voting," she added.
The PPP Vice President, making her case, also referenced previous court rulings.
"I want to remind this House that court judgements also rule that 'The right to vote is a fundamental right and not a statutory right'," she said, citing the Province of Sindh vs. MQM [PLD 2014 Supreme Court 531]).
"Under Article 17 of the Constitution every citizen has right to vote to participate in the governance of the country through their chosen representatives," she reiterated.
The Senator also cited the Supreme Court verdict in Ch. Nasir Iqbal vs. Federation of Pakistan [PLD 2014 Supreme Court 72] )as well, in particular where it was explicitly stated that: "The law provides that the people of this country, irrespective of their social, ethnic, [gender] status and religious affiliation, choose their representative in whom they repose confidence. Hence, every eligible individual should be allowed to utilize the right to vote irrespective of his caste or creed or any other consideration."
"I also state on record the view that while tribal custom or culture is cited to enforce such denial of rights on women, our religion is cited wrongly for such practices, whereby Islam accords frontline status even in wars to women," maintained Rehman.
"Pakistan must take the lead among developing countries in empowering and mainstreaming women. The right to vote is the first building block of a democracy, and must be ensured if we are to fight for a country governed by rights and the rule of law, the Senator declared.
"This is not an issue anyone should play politics on, nor must we delay such laws. I believe we owe this much, and way more, to the people of Pakistan. We have been left behind by history and our own conduct. It is high time we started reform at the bottom, and included the vulnerable and the excluded in all democratic practices and procedures," she stated.
"This bill is just another first step needed in mainstreaming women. We will need civil society, media and other lawmakers to remain vigilant against abuse and urge the current government of the day to enhance the number of women in decision-making places, including federal ministries and public sector posts. It gives me no joy to say that I do not even see a federal minister among the cabinet that is a woman. For a country where a woman has been twice elected PM, this is a backward slide. I hope this can change," concluded Rehman.